phpFox User Document /Scribd iPaper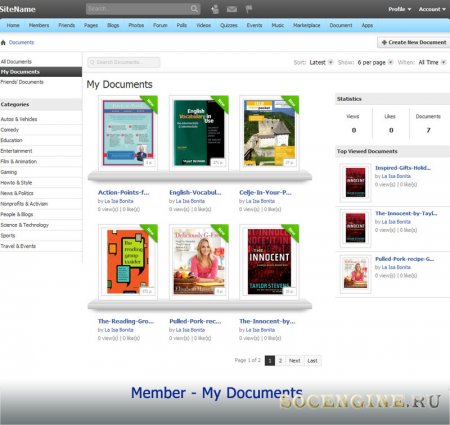 Document plugin leverages Scribd's features (www.scribd.com). Document plugin includes many features that help users manage their documents easily. Most document types (.pdf, .docx, .pptx, .xls, etc…) can be uploaded and shared among network members. In addition, documents on Scribd site can be viewed directly online without using any reading plugin / software. On-page action feature allows site admin to edit / delete / set feature to members' documents in just a click. Also, statistic block helps promote site by highlighting total views, total likes, and total documents.
phpFox compatibility: 3.x
Upgrading for latest V3 version: Available in the Client Area within 3 business days after latest official release of phpFox.
For customers who purchased V2: Please submit ticket in the Client Area to get upgrading.
Notice: Admin must have a Scribd account to configure Document plug-in
Improvements
- New layout in phpFox3 styles
- Statistics block
- On-page action (delete/approve/set feature)
- Quick share document tab on Member Home Page
- Compatible with phpFox Pages
Key Features
- Upload and share documents (doc, docx, ppt, pptx, pps, xls, xlsx, pdf, ps, odt, odp, sxw, sxi, txt, rtf)
- Read documents on Scribd site via your network
- Allow users to manage their documents and share permission
- Display Top View Documents, Top Active Member
- Many configurations in Admin Control Panel: Manage User Groups, Manage Settings, etc
Front End
- Guest
++ View recent / featured / most viewed / popular / most discussed documents
++ Filter documents by category
++ Search documents
++ Sort documents by date time
- Member: A person who has a registered account. Member inherits Guest's features and has additional functions
++ Create / Edit / Delete own documents
- Admin inherits Member's features and has additional functions
++ Feature / Un-feature / Edit / Delete members' documents in Front-End
Back End
- Manage User Groups
++ Add tags on documents
++ View / Delete / Edit/ Feature members' documents
++ Edit / Delete own documents
++ Create a new document
++ Add comments on documents
++ Approve/ disapprove members' documents before they are displayed publicly
++ Control file size of uploaded documents (Unit: MBytes)
++ Control members' comments on their documents
++ Control number of documents per page
- Manage Settings
++ Visibility options for users
++ Scribd Secret Key
++ Scribd API Key
++ Control time stamps for document entries.
++ Document visibility
- Manage Documents
++ Feature / Un-feature documents
++ Approve / Un-approve documents
++ Delete documents
- Add Category
++ Add a new category
- Manage Categories
++ View / Edit / Delete categories
- Add License
++ Add a new license
- Manage Licenses
++ View / Edit / Delete licenses
Файлы - Files:
Скачать phpFox 3 User Document /Scribd iPaper / DownLoad phpFox 3 User Document /Scribd iPaper
Версия - Version: 3.01Версия PF - Version PF: 3+
English Version ZIP: Скачать / Download